Welcome to the RAMS Rally Door Prize Hut!
The Door Prize drawings are one of the highlights of our rally weekend. Each person registered for the full Rally receives Door Prize tickets, which may be divided between several door prizes.
Please note:  Saturday Day Pass holders do not receive Door Prize tickets; however, they can pay an additional $20 at the Rally to upgrade to the full Rally package.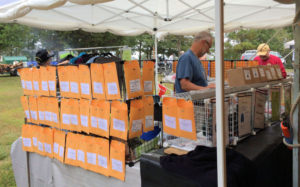 Each Door Prize received is assigned a number with a corresponding envelope; Grand Prize donations are also numbered and assigned a corresponding box to allow rallygoers the opportunity to choose how they wish to use their tickets.
The Door Prize Hut is a great gathering place for rally attendees to examine and discuss the Door Prize items prior to making their selection(s). The Hut has been mistaken for a vendor more than once, with first-time attendees asking if they can purchase items!
Drawings start on Saturday morning, with the Grand Prize Drawings ocurring at the Closing Ceremony on Saturday afternoon.
We publicize all door prize contributors, both at the rally and during the year on our website.  We would be happy to circulate any printed material that you might want to send along.
Would you like to donate a motorcycle-related Door Prize for the 2019 RAMS Rally?  Please contact vendors@bmwrams.com for more information!
Please support the following vendors, individuals, and groups who have graciously donated to the 2018 RAMS Rally: